A veterans benefits consultant is an individual who helps veterans understand long term care benefits available through VA. This can include information available to the public on veterans health care, state veterans homes and veterans disability income benefits. We place particular emphasis on Pension and Death Pension because these benefits are typically more useful for the elderly needing long term care. Pension is also known as "the aid and attendance benefit."
We provide information about the aid and attendance benefit including what it is, who can qualify and what information and documentation are necessary in order to file a claim.
A consultant does not participate in any way in the application process unless that consultant is accredited by VA. For all others, veteran households seeking help with filing a claim are directed to an appropriate veterans service organization or to a state or county veteran service representative.
The individual(s) on this site are private practitioners or in some cases representatives of veterans service organizations and are not connected with the Department of Veterans Affairs.
Money-back Guarantee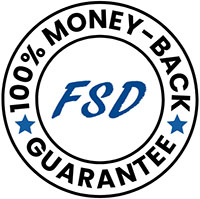 The guarantee is valid for all clients who provide full disclosure. The guarantee does not apply if the client decides not to proceed with the planning after we've provided our consulting services – and does not apply if the Medi-Cal beneficiary were to pass away. Financial Security Designs charges the fee upfront, and it is a flat fee, with no added charges for phone calls, faxing, etc., even if we have to go to a hearing because the case was denied (which is not uncommon during this process). No added fees. No contingency or separate account.
If we review your file and agree to accept your case, and you don't become Medi-Cal eligible, we will give a money-back guarantee with respect to the funds paid for the Medi-Cal application process. In the event that we are unable to obtain Medi-Cal eligibility, we will refund in full all funds paid to our firm for the application process.
This guarantee is premised on the representations made to our office with respect to the assets of the estate, the existence of any non-exempt transfers, other material factors that would impact the application process, and current rules and regulations with respect to Medi-Cal laws. The Money Back Guarantee does not apply should the Medi-Cal recipient pass away prior to the completion of the plan or should you decide not to continue with the planning.
Our money-back guarantee is premised on the fact that all material facts have been disclosed to our office. If all facts are not disclosed by the client and their family, the client is subject to additional fees, which require additional work with the County to amend that application and positioning of assets.
If, as a result of the application process, the Department of Social Services uncovers assets that were not disclosed to us or other material facts are uncovered which cause the application to be denied, then the money-back guarantee would not apply. In short, the only way the application would be denied is if we either do not understand the law or fail to apply for the benefits appropriately. In that event, we will be more than happy to make a full refund.
Keep in mind that denied cases are often part of this process, and filing an appeal is part of the work we do, which will only affect processing time. As part of our guarantee, you must provide all requested documents within 10 days (there are exceptions) – which includes: providing a schedule of transfers from the sale of the residence and disclosure to the county to maintain Medi-Cal eligibility after the period of ineligibility has expired.
We encourage questions on any of the above.